Seattle Colleges Institute of English (SCIE)

The Seattle Colleges Institute of English (SCIE) offers quality, results-oriented programs to international students who want to improve their English language skills in preparation for study in certificate or degree programs at Seattle Colleges. SCIE serves students from all three colleges (North, Central, and South) and is located at Seattle Central.
Faculty and Services
SCIE boasts excellent instructors, services, and outcomes, including:
Experienced faculty with master's degrees in English or Teaching English as a Second Language (TESOL)
Full access to Seattle Central facilities, activities, and services, including free tutoring and dedicated international student advising
Ability to earn transferable college credits while studying English
Eligibility for full-time college-level enrollment at any of the three Seattle Colleges upon completion of the College Bridge program without additional English testing
Certificates upon satisfactory completion of SCIE's course curriculum
Calendar
SCIE courses begin at the start of each quarter. In Fall, Winter, and Spring quarters, classes last ten weeks. In Summer quarter, classes last eight weeks. See Dates & Deadlines for detailed information on quarter start and end dates.
In general, SCIE levels take one quarter to complete. Students who receive passing grades in their classes can expect to advance to the next level in the following quarter. Students who complete College Bridge Level 5 can then enroll in full-time college-level courses at any of our three campuses.
Programs
The diagram and information below describe the two programs offered by SCIE, as well as the number of college-level credits a student can earn in the College Bridge program. Both SCIE programs are offered in person. No online remote study option is available at this time.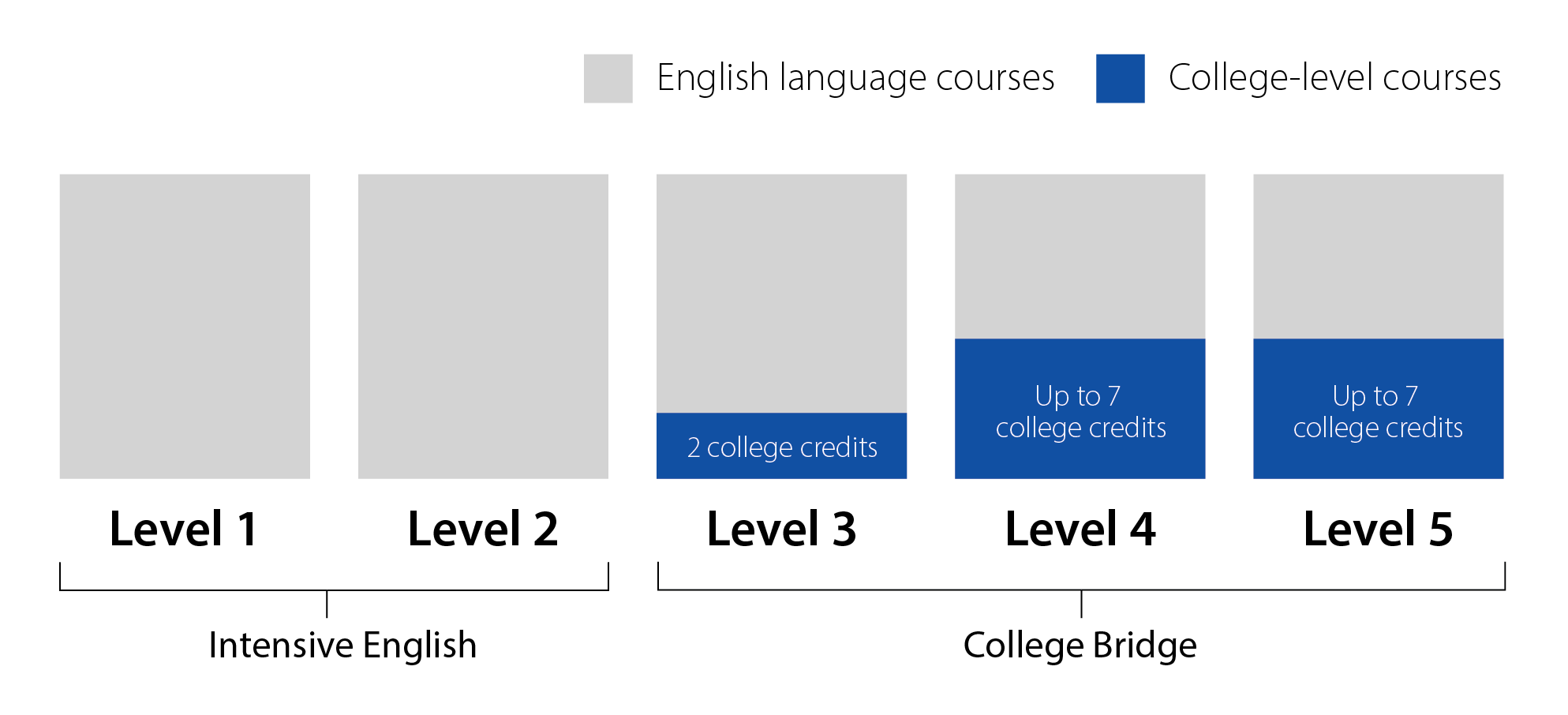 Intensive English
The Intensive English program is designed for international students with basic (beginner or high-beginner) English proficiency. Students in Intensive English focus on improving all areas of their English language use, including receptive (listening and reading), productive (speaking and writing), and interactive skills. The program is intended for students who may have studied English in their home countries but who have limited experience with real-world English use. It is also intended for students who require additional language support including a focus on the fundamentals of English grammar. The total classroom time is 20 hours per week in Fall, Winter, and Spring quarters, and 25 hours per week in Summer quarter.
Intensive English students listen to brief conversations and presentations, watch videos, participate in spoken and written (online) discussions, give informal presentations, read a variety of basic English-language texts, and write sentences and paragraphs on a range of topics.
Students who complete the Intensive English program may continue on to SCIE's College Bridge program.
College Bridge
The College Bridge program is designed for international students who plan to take full-time college classes, but still need to improve their English. College Bridge allows students with intermediate and upper-intermediate English proficiency to continue developing their language use while earning up to 16 college credits, which is equal to one quarter of full-time study. As they progress through the program, students take progressively more college classes and fewer English language classes. The total classroom time is typically between 15 and 20 hours per week.
College Bridge courses focus extensively on the receptive (listening and reading), productive (speaking and writing), and interactive language skills needed to succeed in American colleges and universities. Students listen and respond to lengthy lectures and videos on cultural and academic topics, take part in online and in-person discussions, and give formal and informal presentations. Additionally, they read extended journalistic, academic, and fictional texts; summarize and respond to these readings; and develop their own ideas and arguments in multi-paragraph essays and reports.
Enrollment in College Bridge requires either successful completion of SCIE's Intensive English program or proof of English proficiency sufficient for direct placement. Incoming students with no proof of English proficiency will take a placement test before classes begin to determine their starting level.
Students who complete the highest level of College Bridge, including all required courses, may enroll full time in a college program at any of the three Seattle Colleges. A TOEFL or IELTS score, or other college placement test, is not required for these students.